The ImproveWell Platform
ImproveWell is a digital staff engagement solution for improving quality in healthcare. Giving all staff a voice, ImproveWell helps your organisation to improve staff experience and the quality of patient care from the ground up.
---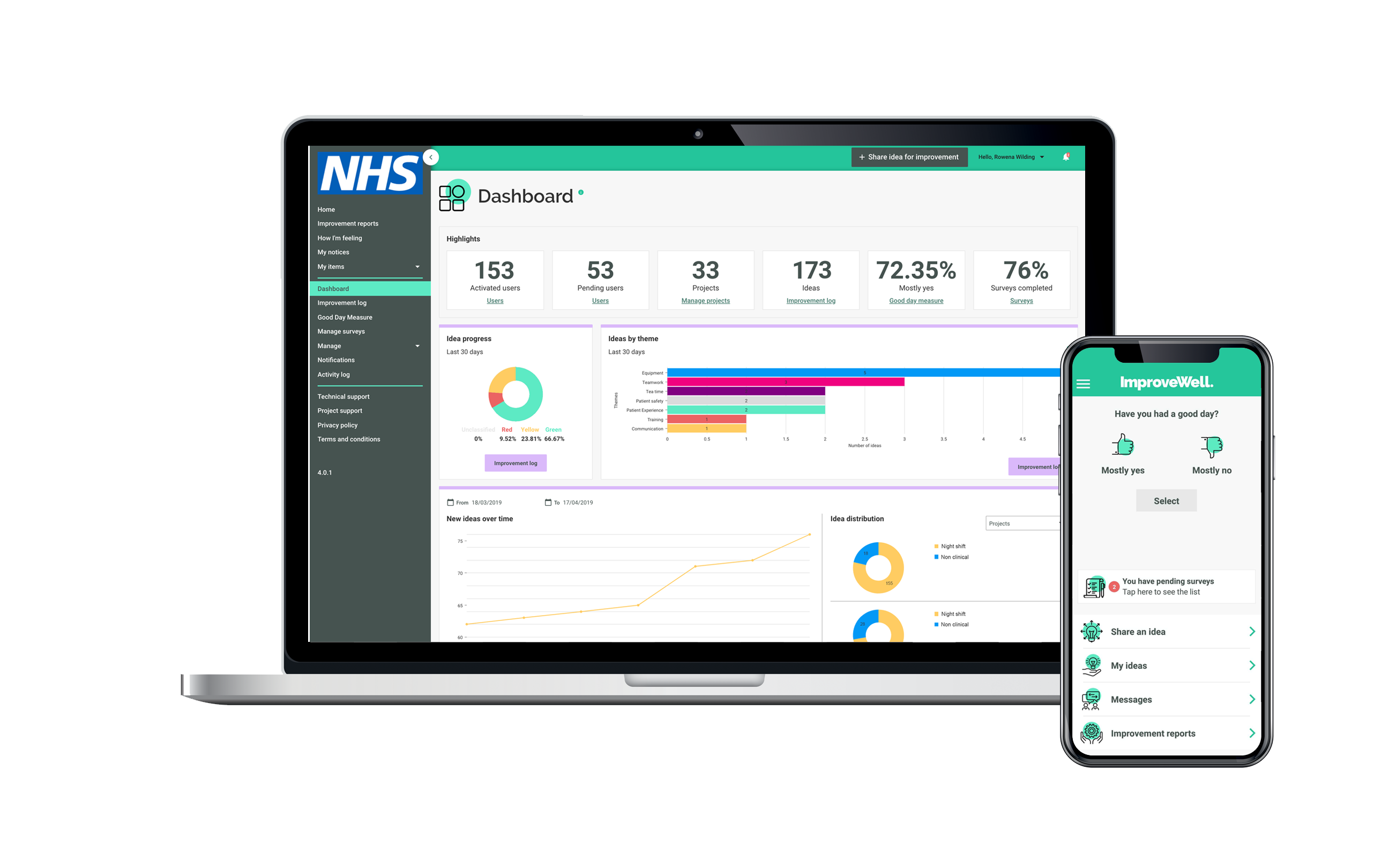 Drive change, collectively
A digital solution that helps you achieve your improvement and engagement goals – for your team and healthcare organisation. Whether it's service improvement or quality improvement, ImproveWell engages the workforce, supporting bottom-up innovation and transformation in the NHS and beyond.
Give staff a voice
Gather instant feedback & learning 24/7
Create a funnel of improvement ideas
Empower local leadership
Cross-collaborate
Drive data-driven decisions
How it works
The ImproveWell solution provides three feedback systems that empower the frontline to drive lasting change, together with an intelligent data dashboard for project group and organisational leads. From in-app messaging to latest idea feeds, and report publishing, each feature has collaborative communication at its core.
For healthcare, by healthcare
The ImproveWell solution has been developed in conjunction with leading healthcare organisations: initially launched with Guy's and St Thomas' NHS Foundation Trust, and later pioneered by East London NHS Foundation Trust. The tool is evidence-based, building on learnings from the Keogh Review, Berwick Report and the IHI Framework for Improving Joy in Work, with features developed alongside more than 20 NHS customers, and its simplicity ensures maximum adoption.
"The advent of apps like ImproveWell provide the opportunity to have direct and meaningful conversation with those people who control the design and operation of an organisation."
Professor Sir Bruce Keogh, former National Medical Director, NHS England